MICROSOFT PARTNERSHIP
We have been a Microsoft Gold Partner since 2019 in different competencies and continuing to expand our Azure capabilities. As a recruit managed-partner, we engage in a close 1:1 business development with Microsoft. We are partner for the Microsoft Azure Cloud and on the path of becoming one of Microsoft´s top specialized partners in Cloud native application development, DevOps, Power Apps, and a lot of more.

AZURE CLOUD NATIVE
OUR MICROSOFT PRODUCTS
AZURE CLOUD NATIVE | AZURE DEVOPS | AZURE PLATFORM
MODERN BUSINESS IN THE CLOUD
Making innovations and digital products scalable with cloud native solutions
More and more companies migrate to a cloud and implement their architectures 1:1, which leads to:
No possible optimization with 1:1 Migration

Ineffective Reliability and Scalability (out-in/up-down) for larger amount of users

More IT Competence requirements for same results

Ineffective Business Continuity

High ongoing monthly costs

Time consuming underlying infrastructure and applications management

Time and cost consuming deployment, iteration and redeployment.
OUR APPROACH
Our approach provides fast insight in optimization possibilities regarding the usage of cloud native solutions. The main benefits of Cloud Native Solutions are: faster delivery, simple operation, secure scaling. We offer:
Code optimization through Infrastructure as Code. Enables focus on innovation and digital products instead of maintenance

Improved project management and tracking (e.g., source control) with Azure DevOps

Utilization of Azure Kubernetes Services (AKS) to increase efficiency by automatization (CI/CD, Security, Governance)

Out-of-the-box AI solutions with Azure's AI capabilities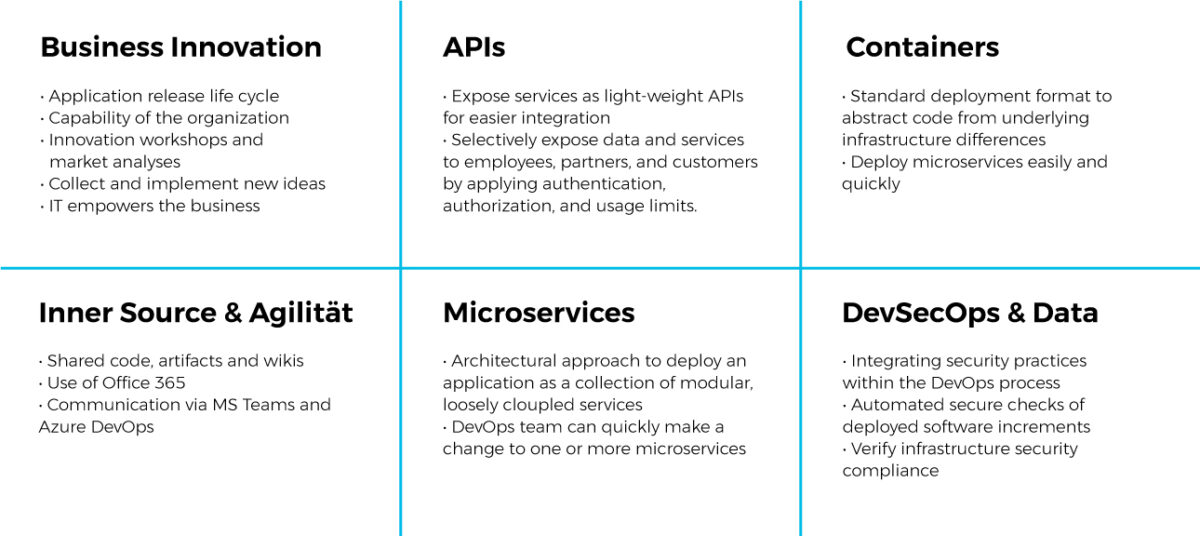 Becoming a true cloud-native organization is a big challenge that requires the perfect combination of the four principles of cloud-native development micro-services, containers, APIs and DevOps. P3 has the expertise in these areas and supports you in developing modern cloud applications on the Microsoft Azure Cloud. For this, we offer various customized packages and services:
Our approach starts with providing fast insight in optimization possibilities of your applications regarding the usage of cloud native solutions.
CLOUD NATIVE READINESS: 2-WEEK ASSESSMENT
The P3 Cloud Native Readiness Assessment helps your company to become a true cloud native organization during the migration journey from A (Analysis) to Z (Implementation). Get a faster reaction to market and customer requirements and create considerable competitive advantages. Fully exploit the capabilities of the cloud and get your enterprise applications ready for the future.

Details of P3' s 2-week Cloud Native Readiness Assessment:
Kick-off meeting (1 day)
• Conducting first discussions to understand the business challenges and define the scope of our assessment work with a brief overview of the current and ideal set-up
• Summarize the assessment's value and set milestones and deliverables for the entire assessment period
Assessment phase (4 Days)
• Identify the applications in need of modernization with an impact on business efficiency
• Conduction of on-site interviews and workshops with operations teams to collect data about the identified application
• Investigate and assess the identified Issues of current set-up and source code Application Modernization Concept (5 Days)
• Define the desired state and communicate the application modernization recommendations argued with benefits expectations
• Present an application modernization roadmap and a new high-level design solution architecture
• Handover the assessment documentation
Modernization Concept (5 Days)
• Define the desired state and communicate the application modernization recommendations argued with benefits expectations
• Present an application modernization roadmap and a new high-level design solution architecture
• Handover the assessment documentation
Here you can find our consulting service in the Azure Marketplace: LINK
Get in touch with us today to kick start your application modernization journey
SALES CONTACT: Sebastian.Gieschen@p3-group.com